Leading as you
Motivate, inspire and encourage others, whilst being your natural self.
iAM one-to-one development programmes are powerful for everyone and are generally experienced by two groups. Aspiring Leaders and Senior Leaders or Directors.
One to One focus
Lift self-awareness, use less control, grow real inner confidence & bring the best of your people to their work, relationships, management & inclusive leadership.
72% share that their iAM development has changed their lives.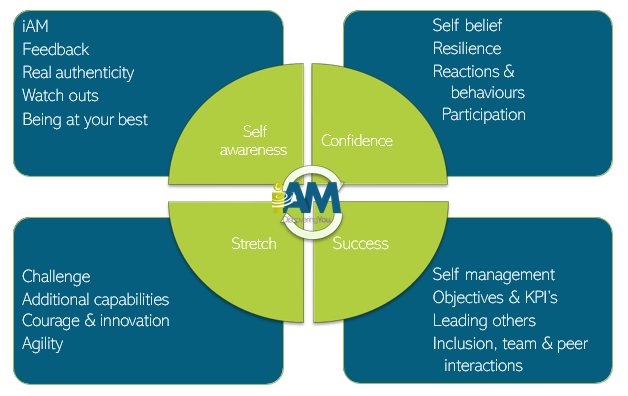 What we have learnt about Leadership authenticity?
Most leaders believe that they are more self aware than their direct reports think they are.
People become leaders because they have high skills or create a business based upon skill and can leave their soft and more vulnerable values for family and friends or those that they trust. This is more likely when busy and under pressure.
Leaders often unconsciously use control and prove it strategies to cope, prove and ensure their success.
Leaders learn and are taught to flex their behaviours based upon their audience and personal bias, developing a leadership persona that can reduce personal authenticity
94% of Courageous Success clients say that our development is different to training that they have had before.
Leaders work hard and focus most of their energy at work so they can become unbalanced, increasing the risk of more challenging behaviours and stress.
Leaders also experience Imposter Syndrome and underestimate the lack of confidence in their employees.
Leaders overcompensate, over compare themselves, over conform to leadership personas and overthink.
On average 35% of our 1:1 development time is focused on helping an individual work with their leader.